Deliver engaging experiences everywhere with a hybrid headless CMS
Increase productivity, accelerate time-to-market, and improve your sites' performance with a hybrid headless content management solution for marketers and developers.
Simplify your content management
Empower marketers to work efficiently. Enable developers to be innovative. Crownpeak CMS (FirstSpirit) offers the best of both worlds to marketers and developers, by leveraging a combination of headless and pre-rendered static content technology.
Marketers
Marketers can easily create and publish content across channels with AI capabilities, a no-code drag-and-drop WYSIWYG tool and a native integration with digital accessibility.
Developers
Developers can seamlessly orchestrate experiences by using powerful integration capabilities and unlimited technology publication flexibility.
Usability
Craft engaging content experiences for everyone
Work faster and smarter with a user-friendly visual editor, multisite and multilingual management, localization, AI capabilities, easy publishing and more. Your marketers can create, manage and publish content fast and efficiently, whilst your developers can focus on innovating and optimizing digital experiences.
Headless
Omnichannel digital experiences at speed

Seamlessly deliver and reuse content on multiple digital channels and touchpoints with our hybrid publication capabilities. Headless content delivery decouples the content management system (FirstSpirit) from the presentation layer so you can deliver content everywhere with speed and agility. Provide exceptional digital experiences on websites, mobile apps, IoT devices, or any emerging technology with modern web APIs (using REST and GraphQL).

Integration
Build scalable experiences with any technology
Connect the technology you already know and love, so your team doesn't work in silos, miss out on efficiencies, and fall short on business goals. Crownpeak CMS (FirstSpirit) makes it easy to integrate with any tech stack, so you can pick the tools to power your ultimate content engine.

Localization
Think local, act global
Make content localization easier to manage and faster to deploy so you can engage customers across global markets to reach your business goals. Translate content across multiple languages, both automatically and manually, with AI-based translation or your favorite translation service.

Personalization
Personalize at scale to win loyal customers

Choose from a host of intuitive capabilities to help you design compelling experiences – whether you want to create personalized content for dynamic audiences or A/B test recommendations based on geolocation.


Accessibility
Create more inclusive digital experiences

Find and fix issues before publishing your content with an accessibility viewer embedded natively in the editorial process. Reach your entire audience and attract new customers while staying compliant with web accessibility standards and regulations.


Search
Make content easy to discover

Leverage the easy-to-use interface to make your content discoverable. Ensure the delivery of relevant and personalized content to your customers with a configurable dashboard that enables personalized searches across all customer touchpoints, including websites, mobile apps, portals, and online stores.

Looking for product search to enhance your e-commerce website?

Check out our Search and Merchandising solution
eCommerce
Connect your commerce tools to boost online revenue

Connect to any modern commerce storefront using ConnectForCommerce, and leverage our legacy commerce connectors including BigCommerce, SAP Commerce Cloud, Salesforce Commerce Cloud and Spryker Connect OS for traditional retail scenarios.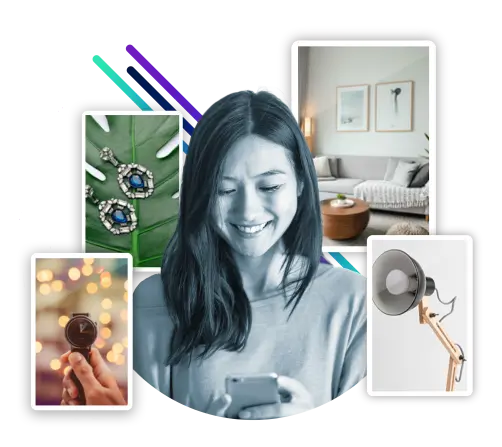 Security
Protect your brand and keep your data safe

Minimize security risks and grow your business with confidence. We provide 24/7 support, a Security Operations Center (SOC) and a Security Information and Event Management Platform (SIEM). Our hybrid headless CMS is built on AWS which has robust security and compliance protections. We are also ISO-27001 certified with SOC2 and TISAX coming soon.


Faster time to market. Boost efficiency. Improve site performance. With a fully composable platform that enables marketers and developers to create engaging content experiences for everyone, on every channel.
Core capabilities for marketers
Ease-to-use visual editor with drag-and-drop and preview
Multisite management
Translation and localization
On-site search and personalization
Integrated accessibility viewer
Experience orchestration via visual WYSIWYG authoring with drag & drop capabilities


Core capabilities for developers
Headless or pre-rendered static content deployment models

Omnichannel content delivery – any technology, anywhere via REST or GraphQL APIs
Powerful integration capabilities to any third-party platform
Pre-built integrations to support e-commerce sites
Easy workflow orchestration

Resources
Hybrid Content Management Systems (CMS): The Next Generation of the Headless CMS
For organizations today, the ability to rapidly manage and deliver omnichannel, high-impact digital experiences is critical to fuel great customer experiences.
Composable DXP Buyer's Guide: Build Future-Ready Digital Experiences
"Best-in-breed" or "composable" technology strategies are rapidly gaining traction in the market and are increasingly the analyst-recommended approach, as companies look to move away from the slow-moving monolithic platforms of the past.
Turbocharge your content management